April 19, 2018
K-State Sales Team shines at 2018 National Collegiate Sales Competition
Submitted by Brent Fritzemeier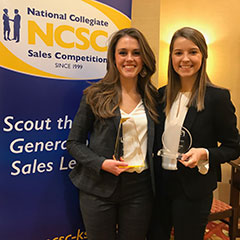 The Kansas State University Sales Team recently took on the best and brightest sales students from around the country at the 2018 National Collegiate Sales Competition, bringing home second place overall out of a field of more than 140 students representing 72 universities.
Hosted by Kennesaw State University April 3-6, the National Collegiate Sales Competition, now in its 20th year, is the longest-running and largest university sales role-play competition in the country. Sales competitions allow students to test their selling skills against their peers from other universities with a focus on sales through role-playing scenarios, case competitions and speed selling. This year's competition was sponsored by Gartner so students sold Gartner's IT consulting services to prospective customers.
Representing K-State at the contest were Rachel Kipper, senior in marketing, Olathe, and Abbie O'Grady, sophomore in marketing, Overland Park. In addition to their second-place team finish, Kipper was awarded first runner-up in the individual competition, while O'Grady advanced to the semifinals as one of the top 16 competitors. Marketing instructor David Lehman is the head coach for the K-State Sales Team.
"I'm very proud of Rachel and Abbie for their outstanding performance at the National Collegiate Sales Competition in Atlanta," Lehman said. "We finished the fall semester with a big win at Florida State, placing first out of more than 70 universities, and then started the spring semester with a first-place finish at Arizona State. With the momentum we gained from these last two competitions, we went to Atlanta with great expectations. Our goal was to finish in the top four individually and place in the top five as a team out of the 72 universities competing. We exceeded that goal, with first runner-up in the individual completion and earning second place overall as a team."
The K-State Sales Team is affiliated with the College of Business Administration's National Strategic Selling Institute, which has been named one of the top sales programs in the country for six straight years by the Sales Education Foundation. Students can earn a certificate in professional strategic selling from the National Strategic Selling Institute, which is open to all majors at the university. The certificate program introduces students to the fundamentals of sales and, through the innovative curriculum and sales labs, allows students to develop the skills needed to be successful.
Beginning in fall 2018, K-State will become just the 19th university in the U.S. to offer a sales major. For more information on the National Strategic Selling Institute, please contact kstatesalesprogram@ksu.edu.