June 29, 2012
Summer STEM Institute is an academic adventure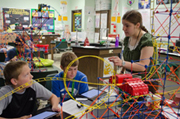 College of Education preservice teachers and middle school students united for a monthlong academic adventure on campus that was full of learning experiences for all.
About 194 middle school students from Manhattan-Ogden USD 383 School District – representing a 20 percent increase in enrollment since last year – took part in this year's STEM Institute at Bluemont Hall. This week brings to a close the second of the three-year institute funded by a grant from the 21st Century Mind Adventures, a U.S. Department of Defense program. The institute is designed to raise student achievement levels and increase enrollments in science, technology, engineering and math, or STEM, careers.
Middle school teachers selected their topics then built fun and engaging lesson plans.
"I don't think the students even realized they were learning," said Carol Adams, executive director of teaching and learning at Manhattan-Ogden USD 383. "We believe we've targeted the right age group because they (students) believe they can learn math and science."
How can learning even seem like learning with courses such as this:
Food Frenzy: From Seed to Slice and From Corn to Cone
Crime Scene Investigation Manhattan – Training Year 1
Crime Scene Investigation Little Apple – Training Year 2
Roller Coaster Physics
Designing Thrill Rides
Reel Math Challenges
Engineering! The Need for Speed - Land, Sea, Air
Photography 1 & 2
Video Game Design
Robotics
Rockets
Adventures in Veterinary Medicine
Chemistry of Candy
Feed your Head with Tech Ed
Kansas StarBase-Engineering of Flight
While the middle school students were busy engaged in covert learning opportunities, 36 preservice secondary teachers were busy learning to teach.
Deb Andres, instructor of curriculum and instruction, believes the STEM Institute offers invaluable learning opportunities for these K-State students.
"They can immediately see and apply the techniques they are learning, like classroom management, and they can begin to build professional relationships with the cooperating teachers," Andres said.
Mattithyah Tillotson, chemistry education major, said the STEM Institute was her single most valuable experience in the college to date.
"I was able to learn about educational theory and immediately apply it in a classroom," she said. "The STEM Institute enabled me to see firsthand the many challenges of teaching. Through this experience, I realized how much I love teaching."