June 29, 2012
Engineering excellence at K-State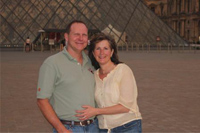 It's a frosty December evening in 1980 in Manhattan. A roving cohort of Kansas State University chemical engineering students embark on an adventure to deliver holiday cheer by singing Christmas carols on the front porches at their professors' homes.
Laughter and liveliness ensue as the professors endure the slightly off-key renditions of familiar classics, and then encourage their pupils to keep at their studies and earn their degrees — because their collective future as singers isn't nearly as bright as the lights that adorn the town during the holidays.
According to two of the singing engineers, Susan and Spencer Tholstrup, it was good advice.
Susan Tholstrup and her husband, Spencer, whom she met in freshman calculus, both graduated from K-State in chemical engineering in 1981 and have enjoyed successful careers in the decades following. But even after their careers have taken them across the country — and the world — Susan Tholstrup, a native of Manhattan, and Spencer Tholstrup, a native of Salina — have never forgotten their Kansas roots or the university that helped them get started.
The Tholstrups, who live in Pearland, Texas, have made a $50,000 commitment to create a named excellence fund to support initiatives in the K-State department of chemical engineering. With a matching gift from Shell Oil, the Susan and Spencer Tholstrup Chemical Engineering Excellence Fund will be established in the College of Engineering with a total gift of $77,500.
Creating an excellence fund — which provides resources for areas deemed to be of significant strategic importance to the college and department —provides the opportunity to support students, faculty programming and many other areas. To the Tholstrups, both of whom had scholarships at K-State, having part of their education sponsored through another's generosity inspired them to consider the ways in which they could do the same.
"We believe that K-State provided us with the foundation to be successful," Susan Tholstrup said. "Looking back at our life and understanding the factors that enabled us to be where we are today, we feel it's our obligation to provide that for the next generation."
"We've really appreciated the outreach that the college has done in terms of their willingness to get us involved," Spencer Tholstrup said. "We get a lot of satisfaction out of watching K-State grow and produce successful people, and if we can be part of that, it means a lot to us."
Although they may be miles from Manhattan, the Tholstrups make it back to cheer on the Wildcats at Bill Snyder Family Stadium and have traveled to several bowl games. And they still keep in touch with several close friends they made as undergraduates while logging long hours on projects in Durland Hall.
It seems, however, that they weren't able to pass the K-State gene on to their son who attended University of Texas and their two daughters who attended Texas A&M — but all three are following in their parents' footsteps and pursuing careers and studies in chemical engineering.
"It's a defective gene," Susan Tholstrup jokes. "But with two out of three children graduated from college, we're in a position where we can do more to help K-State. We're proud to be K-Staters, and we trust and believe the leadership at K-State knows how and where these resources can be of greatest value."