June 29, 2012
American Seed Trade Association awards plant pathology graduate student with scholarship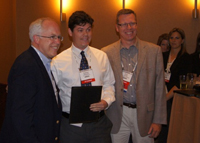 The American Seed Trade Association recognized Rodrigo Pedrozo, graduate student in plant pathology, with the Roger Kreuger Memorial Scholarship at the association's 129th annual convention on June 21 in National Harbor, Md. The scholarship is for $2,000.
The scholarship endowment, established in 2008 by the American Seed Research Foundation, is in honor of Krueger, who devoted his professional career to seeds and advocating the role of science in feeding the world.
Pedrozo, a native Brazilian, is working to complete his doctorate in seed pathology and seedborne pathogens. The scholarship recipient is chosen by a group of seed research experts who are research foundation members including scientists in the public sector and private companies. Pedrozo's faculty mentor is Chris Little, assistant professor of plant pathology.