June 15, 2012
Honors program director attends seminar at Oxford University
Submitted by Communications and Marketing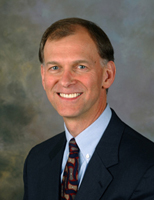 Stephen W. Kiefer, director of the University Honors Program and professor of psychology, attended the third Oxford Study Abroad Programme Faculty Seminar at Oxford University in Oxford, England, to learn about the university and its methods of instruction for undergraduate students.
The seminar, from May 28 to June 1, included several administrators from honors programs and colleges across the Midwest. Oxford is the oldest university in the English speaking world, founded in the 12th century; some forms of teaching existed there before the formal establishment of the institution. The university currently includes more than 35 separate colleges and is home to some of the greatest scholars in the world.
As part of the seminar, Kiefer met with college officials, dons, visiting professors, instructors and students. They provided their perspectives on the Oxford tutorial system and how it might be adapted for use in the United States. Also discussed were possible avenues for American students to study abroad at Oxford.
Faculty, please let your students interested in opportunities to study abroad at one of the oldest and most respected universities in the world to visit with the office of international programs. Students are also encouraged to speak with Kiefer at 785-532-2642 or swkiefer@k-state.edu.