June 14, 2012
Increasing international relations: Kansas State University announces new Australian agreement
Submitted by Communications and Marketing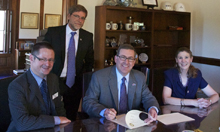 Kansas State University has expanded its international reach through a memorandum of understanding with The University of Western Australia in Perth.
"Australia is a very important market for us internationally as it represents significant opportunities for our faculty, staff and students as we become a top 50 public research university by 2025," said K-State President Kirk Schulz. "Collaborations will allow us to pursue the biggest challenges related to agricultural biosecurity; safe, efficient and sustainable food production; environmental stewardship and other issues which will benefit from our combined energy and expertise."
Kelly Smith, director of international programs of The University of Western Australia, visited Kansas State University last week and attended meetings with the president; April Mason, provost; Marcelo Sabatés, interim associate provost of international programs; Carol Shanklin, dean of the Graduate School; and other members of the office of international programs, the Graduate School and the office of study abroad. Smith also visited the Olathe campus and where he met with K-State Australia liaison Randall Tosh.
"Kansas State University and The University of Western Australia share a commitment to leadership in addressing many of the global community's most pressing concerns; you truly perceive a land-grant attitude at their campus," Sabatés said. "UWA is a world-class, comprehensive university and as such it will provide an extraordinary opportunity for our faculty and students."
The University of Western Australia is the only Western Australian university to belong to the Group of Eight, and it is one of only two Australian universities to belong to the Worldwide Universities Network, a partnership of 16 research-led universities from Europe, North America, North Asia and Australia.
As Western Australia's leading university with 21,000 students enrolled for undergraduate and postgraduate courses, UWA was rated second overall in Australia by the Good Universities Guide 2011 based on key performance measures such as graduate starting salaries, employment prospects, staff qualifications, research intensity and student demand. The university consistently ranks in the top 120 international universities and in the top 10-18 universities in the Asia-Pacific region. UWA is responsible for almost 70 percent of university-based research and development in Western Australia.
A Kansas State University executive delegation will travel to five cities in Australia in late June to begin strategic discussions for collaborations in research development, education, faculty engagement and student and staff exchange to move forward on partnership agreements that will be content-rich and meaningful for each university.