June 14, 2012
Classes officially commence at K-State Olathe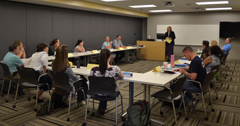 Nearly 20 students attended their first class at K-State Olathe on Wednesday evening as classes commenced in K-State Olathe's first master's program, adult and continuing education. The program was one of five announced at the campus' first anniversary celebration in April.

According to Royce Ann Collins, associate professor, 19 students are admitted and enrolled in the first class. Ten of the students will be continuing courses at the Olathe campus, six are from the Fort Leavenworth program, two are Kansas City-area students enrolled in the online program and one is commuting from Manhattan.

"This first class shows the effort that Dr. Collins and Matt Maciel, program coordinator, have put into making this a true success story for K-State Olathe and the university as a whole," said Dan Richardson, CEO and dean of K-State Olathe.

The master's in adult and continuing education program looks at how adults learn, how to best present programs and teach adult learners and how to market a program to adult audiences. The program prepares graduates to work with adults in the animal health and food industries, human resources, continuing education and a variety of other fields.

The first on-site course is EDACE 820, Principles of Teaching Adults, which reviews the basics of teaching adults by exploring methods and techniques that enhance creativity and interaction in the face-to-face and online learning environments. The program track also includes Introduction to Adult Education, Characteristics of the Adult Learner, Developing Teams and Leaders in Adult Education, and Program Planning.

"This degree program at Kansas State University Olathe builds on the success we've had in the greater Kansas City area for more than 30 years," said Collins, who is teaching the course. "We are so happy to have this new home in Olathe, where we can bring all that the university has to offer to our Kansas City-area students."

More information about the adult and continuing education degree program, as well as the other Olathe degree programs, is available at http://olathe.k-state.edu/academic-initiatives/programs.html.