January 29, 2018
Kulesza named Keystone Research Faculty Scholar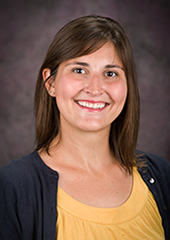 Stacey Kulesza, Kansas State University assistant professor of civil engineering, has been appointed a Steve Hsu Keystone Research Faculty Scholar by the College of Engineering.
Keystone Research Faculty Scholars receive a three-year appointment with a salary supplement and discretionary funds to support travel, specialized equipment, and additional graduate students to join his or her research team.
The award is funded by Steve Hsu, 1959 master's degree graduate of K-State in mechanical engineering, and former chairman of the family shipping company, Oak Maritime Group, Hong Kong, China.
Kulesza joined the civil engineering faculty at K-State in 2013. Her research focuses on the integrity of the deteriorating infrastructure and how soils respond to the changing environment. Her research sponsors include the Kansas Department of Transportation, U.S. Department of Agriculture and National Science Foundation.
In 2015, she received the Kansas State University Department of Civil Engineering Outstanding Teaching Award and the Chi Epsilon Advisor of the Year award. She is a 2014 graduate of the American Society of Civil Engineers Excellence in Civil Engineering Education teaching workshop, and was a nominated speaker at SPOTLIGHT K-State in 2016 for innovative teaching practices. Kulesza is a licensed professional engineer in the state of Kansas.
Established to recruit and retain top scholars in the early stages of their careers who are in high demand for faculty positions throughout the U.S., Keystone Research Faculty Scholars are nominated by their department heads for the positions.