Kansas State Polytechnic builds new physics lab as experiential learning space
Monday, Jan. 29, 2018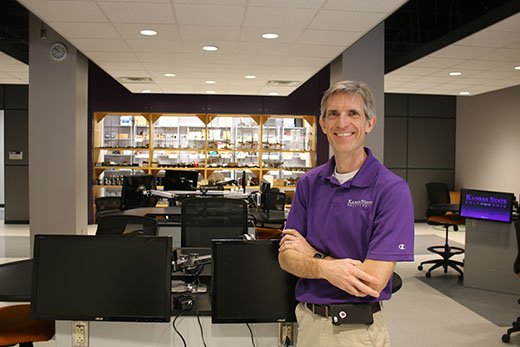 Professor Richard Zajac stands in the new physics lab on the Kansas State University Polytechnic Campus, a space he and his students utilize for both lectures and experiential learning. | Download this photo.


SALINA — The Kansas State University Polytechnic Campus is continuing to advance its mission of providing hands-on education to its students with the opening of a brand-new experiential learning space.

A state-of-the-art physics laboratory has been built in the campus's Technology Center with the purpose of blending classroom lectures with research and experimentation. The almost 2,000-square-foot room is equipped with a variety of technologies and amenities — such as a whiteboard projector, dual table monitors and open storage for equipment shopping — that encourage a learning-by-doing experience.

"Physics is all about energy, motion and force, so it has always been important to me that students are able to bring this subject to life through engaging experiments," said Richard Zajac, physics professor at Kansas State Polytechnic. "The new lab is unique in that it offers my students one large space in which they can immediately take a lesson I'm teaching and test it out. When students are able to apply what they are learning, it becomes relevant, more comprehensible and even fun."

Zajac was involved in the design of the physics lab. His focus was on maximizing the functionality of the space, giving everything from lighting to furniture to flooring a specific purpose. On the wall at the front of the room is a long, white marker board that doubles as a space to display slides from a projector. At the back, several rows of open shelving have been built to house various pieces of equipment used in experiments, such as dynamics carts, ultrasonic motion sensors and propellers. Zajac wanted the storage area to resemble a home improvement store where students could find inspiration for their assignments by "shopping" the shelves.

The lab has seven large, oval-shaped tables where students are able to work comfortably in groups or all face forward when Zajac is teaching. The tables are illuminated by spotlights and have two adjustable monitors for easily viewing computer simulations. They also measure at bar-top height so students can sit or stand during class.

Additionally, the ceiling is mounted with a unistrut from where larger experiments can be hung or even swung; on the floor, 12-inch by 12-inch tiles have been installed to be utilized as a grid system.

"Dr. Zajac's guidance during the development of the physics lab was essential in creating a space that truly enhances the student experience and I am excited to see how this attention to detail will improve learning outcomes," said Verna Fitzsimmons, dean and CEO of Kansas State Polytechnic. "The new physics lab also helps move us toward one of our 2025 goals of having facilities that visually reflect and represent our proud tradition of offering innovative degree options."

Before its rebuilding, the physics lab was housed in the Science Center on the north corridor of the campus for more than 30 years. With physics being a required course for almost every degree option at Kansas State Polytechnic, another benefit of the new facility is its more central location in the Technology Center.

The physics lab took 12 months to complete and officially opened during the fall 2017 semester.