January 17, 2018
Natacha Buchanan to speak at College of Business Administration Diversity Lecture
Submitted by Brent Fritzemeier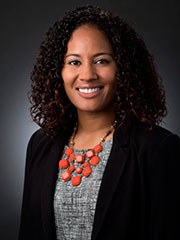 Natacha Buchanan, senior advisor, Inclusion & Diversity for Phillips 66, will be the spring 2018 speaker for the Kansas State University College of Business Administration's Diversity Lecture Series.
The lecture will begin at 1:15 p.m. Tuesday, Jan. 23, in the Business Building Lecture Hall. The event is free and open to the public.
Buchanan has more than 16 years of experience in various finance and accounting roles in the oil and gas industry. Before her current role, Buchanan served as LRP coordinator, Controllers. In that position, Buchanan managed the Phillips 66 Capital Plan and served as the capital liaison between Phillips 66 management and the various business units.
Buchanan joined Phillips 66 as supervisor, Crude and Products Derivatives in May 2012. Previously, she was in the same role for ConocoPhillips since 2010. From 2008 to 2010, she served as staff supervisor for the Marketing Financial Services organization. Prior to that, she held various financial analyst positions within Downstream Financial Services including an internship with Conoco. Throughout her career, she has remained actively involved in diversity initiatives and university recruiting. Buchanan is the lead Phillips 66 Finance recruiter for Kansas State University.
Originally from Junction City, Buchanan earned a bachelor's degree in accounting from Kansas State University in 2002. She is currently serving as a member of the Finance Advisory Board and College of Business Diversity Advisory Council for Kansas State University.