January 17, 2018
Campus community gifts made the Center for Child Development Giving Tree Project a success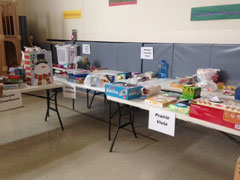 Thanks to all who contributed gift donations during the K-State Center for Child Development 2017 Giving Tree Project in November and December.
Suggested gift donations were listed on ornaments in Hale Library, Justin Hall, Peters Recreational Complex, Rathbone Hall, Seaton Hall and Trotter Hall. The campus community was instrumental in collecting nearly 180 donations for our youngest K-State students.
Children, ages 6 months to 6 years, are enjoying new art supplies, warm winter outdoor clothing, books, games, science resources and more. Thank you for making a difference to our young learners.
K-State Center for Child Development PTO
Andrea Feldkamp
2017 Giving Tree Project coordinator