November 7, 2011
Hale Library open house celebrates restoration project Nov. 13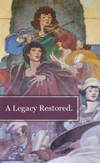 K-State Libraries, with financial support from the Friends of the K-State Libraries, have recently completed a four-year restoration project of the four murals in Hale Library's Great Room. If you haven't seen the restored David H. Overmyer murals, or just want to learn more about them and their connection to Kansas State University's history, please stop by Hale Library for our murals open house from 2-4 p.m. Sunday, Nov. 13.
The open house will include a brief presentation about the restoration of the murals at 3 p.m. from Mary Schafer, lead conservator for the project. Schafer's presentation will be followed by a dedication from Libraries' Dean Lori Goetsch to the Friends of the K-State Libraries for their lead support of the mural restoration efforts. Additionally, Libraries' staff will be on hand throughout the open house to answer your questions about the murals and describe the restoration project.
The event is free and open to the public.