November 7, 2011
The choice of Wildcats: Two students from greater Kansas City are university's new ambassadors
Submitted by Communications and Marketing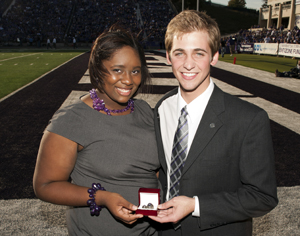 Two Kansas State University students have earned the honor of representing fellow students at events on campus and across the state.
Phillicia Thomas, Olathe, and Andrew Waldman, Shawnee, were named the 2012 Student Ambassadors during halftime of the Oct. 29 homecoming football game against the University of Oklahoma.
Through the university's Student Ambassador Program, established by the Kansas State University Alumni Association in 1977, a male and female student are elected each year to represent the student body at events throughout the state and at university activities.
"I'm really humbled by this entire experience," said Thomas, a junior in journalism and mass communications. "I'm excited to show prospective students that K-State is more than a university, it's a family that's with you every step of the way. I also want to show current students that there are people who care about their university just as much as they do, who will promote change and be their voice all over the state of Kansas."
"I wanted to be an ambassador because I live, breathe, eat and sleep K-State," said Waldman, a junior in industrial engineering. "I want to show prospective students why K-State is different, but I also want to connect with alumni and hear their K-State stories."
Thomas and Waldman were selected from group of six semifinalists, who went through an extensive application and interview process. They were elected by student vote during Homecoming Week. The ambassadors serve a one-year term beginning in January, and each receives a $1,500 scholarship; clothing from Borck Bros., a Manhattan clothing store; and an official university ring from the alumni association.
Student ambassadors visit with prospective students and alumni; attend Student Alumni Board meetings and activities; assist with programming on campus like class reunions, All-University Homecoming Committee and other special events; and assist the president's office as needed.
Typically, ambassador candidates excel in academics and extracurricular programs, and frequently participate in volunteer and philanthropic activities. Thomas and Waldman are no exception.
Thomas is a member of the United Black Voices Gospel Choir and the K-State chapter of the Public Relations Student Society of America, a host on the student-run Wildcat Watch video broadcast, and the head community service chair at her church. She is a graduate of Olathe South High School.
Waldman is a member of the Student Alumni Board, vice president of membership for the Student Foundation and a campus tour guide for new student services. He's also a member and director of recruitment for the K-State Singers. He is a graduate of Shawnee Mission Northwest High School.
"The thing I'm most excited about for Andrew and Phillicia is they just have that outgoing personality, and I think they'll be great for talking to prospective students and alumni on their trips," said Gavin Hargrave, associate director of alumni programs for the Kansas State University Alumni Association.