November 15, 2017
Celebrate with the Office of International Programs at the 2017 International Education of the Year Awards Ceremony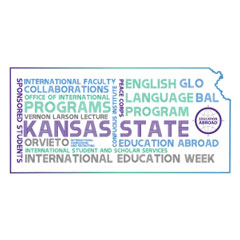 Join Provost and Senior Vice President April Mason and interim Associate Provost for the Office of International Programs Grant Chapman at the International Education Awards Ceremony, as they both welcome and honor the international award recipients.
The ceremony will be 4-5:30 p.m. Thursday, Nov. 16, in the Hemisphere Room of Hale Library.
The following awardees will be recognized:
Trisha Gott, Staley School of Leadership Studies — 2017 International Educator of the Year.


K-State College of Education under the leadership of Dean Debbie Mercer — 2017 Outstanding Support for International Initiatives.


Usha Reddi and the city of Manhattan — 2017 International Innovative Educator of the Year.


Jennifer Vallenga, associate professor in the School of Music, Theatre, and Dance — 2017 International Collaboration Award. Marcellus Caldas, assistant provost for international collaboration and education programs in the Office of International Programs, will present the award, which recognizes international co-publication collaborations during 2016. Vellenga collaborated with Canadian playwright Chantal Bilodeau in premiering "Forward," set in Norway, at K-State. Vellenga was the stage director and provided the research and vision for Bilodeau in the development of the play as she guided the actors.
"This International Awards Ceremony is a signature event to cap off the 2017 International Education Week, and it allows us to recognize and celebrate our international diversity across campus," Chapman said.
The International Education Week Office of International Programs Fair also will feature areas and departments of international expertise and information about global opportunities for students and faculty. The following areas will have materials and staff available to share information and answer questions:
Office of International Programs
Education Abroad
International Scholar and Student Services
English Language Program
International Admissions and Recruiting
The Confucius Institute
Graduate School
K-State Alumni Association
Peace Corps