November 6, 2017
Mercer receiving 2017 Outstanding Support for International Initiatives Award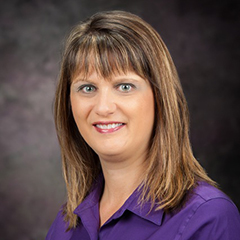 The Office of International Programs will present the College of Education and Dean Debbie Mercer with the 2017 Outstanding Support for International Initiatives Award. Given by the office's leadership team, this recognition is presented during International Education Week to a university college, department or unit that has worked hard to create and elevate cultural diversity at the university.
"Our OIP leadership team was impressed with the many programming collaborations undertaken College of Education faculty and staff," said Grant Chapman, interim associate provost of the Office of International Programs. "The College of Education has welcomed international dignitaries, scholars, faculty and artists to campus and they have hosted multiple workshops bringing global perspectives into our classrooms."
The college has produced international documentaries:
"A Walk in My Shoes: International Graduate Students."
"Life in a Jar: The Irena Sendler Story."
"Humanity Looks Good on Everyone."
Additional noteworthy programs include:
Ecuador – Go Teacher!
Study abroad programs to China, Guatemala, Ecuador.
COMEXUS, Teachers from Mexico were on campus for a summer program focused on increasing English Language instruction pedagogy skills.
Partnership forming with the Volcanes Education Program in Puerto Vallarta, Mexico.
Faculty-inspired projects with Tanzania and Ethiopia.
Mercer also demonstrates decadeslong commitment to culturally and linguistically diverse students through its Center for Intercultural and Multicultural Advocacy, or CIMA. The center's research agenda has produced nine textbooks and 14 book chapters.
Mercer will be recognized at the International Educator of the Year Awards Ceremony at 4 p.m. Thursday, Nov. 16, in the Hemisphere Room of the Hale Library. University Provost April Mason and Chapman will present the awards to the deserving honorees.
Past recipients of the Outstanding Support for International Initiatives award include:
2016: K-State College of Human Ecology for their efforts in maximizing international engagement as a cornerstone of experiential learning offered to its students.
2015: K-State Alumni Association and Amy Button Renz for the 20 scholarships awarded to international students, creating International Family Fun Day, hosting International Student Leadership Awards Ceremony, and staff travel to engage international alum.
2014: College of Architecture Planning & Design for expanding international opportunities for our student body, and recognizing Centro Studi Citta di Orvieto, Orvieto, Italy for its partnership with K-State.
2013: The Outstanding Support for International Initiatives Award was first created this year and presented to Housing and Dining Services director Derek Jackson. Under his leadership, the first International Student and Housing Committee was initiated to better serve the increasing number of international students.