November 6, 2017
Two days left to buy tickets for the International Food Festival 2017
Submitted by Dhruthi Singamsetty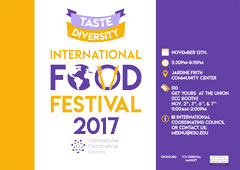 The International Coordinating Council, a registered student organization, presents the annual International Food Festival from 5:30-8:15 p.m. Sunday, Nov. 12, at Jardine Frith Community Center. Students from 10 different countries — India, Sri Lanka, Pakistan, China, Mexico, Paraguay, Iran, Indonesia, United States and Ghana — will make some delicious dishes from their countries.
Follow the International Coordinating Council on Facebook for the menu. Two sessions are available but the food served will be the same in both sessions. Session A will be from 5:30-6:45 p.m. and session B will be from 7-8:15 p.m.
Tickets are $10 and are available from the council's table in the K-State Student Union from 11 a.m. to 2 p.m. Nov. 6 and 7 or from any of the council's officers. Only 200 tickets will be sold and time is running out.
If you have any questions, contact Narmadha Mohankumar at meenu@k-state.edu or Dhruthi Singamsetty at dhruthis@k-state.edu.