November 2, 2017
Safe Zone to present Veterans on Campus Kognito training tomorrow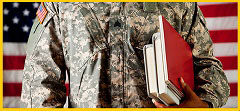 Transitioning from the military to civilian life can often prove difficult because of veterans' wide range of life and leadership experience gained during their time in service.
Counseling Services' Wendy Barnes will present on the Kognito At-Risk program: Veterans on Campus training from 11 a.m. to noon Friday, Nov. 3, in 123 Leadership Studies Building.
Learn about the program and how to better meet the needs of this campus population. The training is open to everyone. Register online.