November 2, 2017
Writer Melissa Chadburn to read from her work on Friday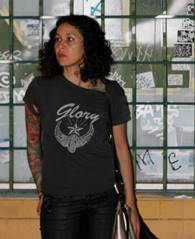 On Friday, Nov. 3, writer Melissa Chadburn will read from her work at 3:30 p.m. in the Wildcat Chamber at the K-State Student Union.
Chadburn is a fellow for the Economic Hardship Reporting Project. She has written for a wide range of publications, including Guernica, Buzzfeed, Poets & Writers, Salon, American Public Media's Marketplace and Al Jazeera America.
Chadburn's essay, "The Throwaways," received notable mention in "Best American Essays and Best American Nonrequired Reading." She will soon publish her debut novel, "A Tiny Upward Shove."
Dan Hoyt, associate professor of English, is drawn to the blend of grit and emotion in Chadburn's writing.
"I love Melissa Chadburn's fiction for its realistic toughness, but also its depth of feeling. She has a big, big heart, and she opens it up to both her often-troubled characters but also her readers," Hoyt said.
Katherine Karlin, associate professor and director of the Program in Creative Writing, finds resonance between Chadburn's work and our contemporary moment.
"Melissa Chadburn gives voice to characters who are too often neglected in literary fiction, and reveals their humor, their powers of observation, and their rich imaginative lives. In our polarized time, Chadburn's fiction is what we need," Karlin said.
More information about Chadburn's work is available at her website.
Chadburn's reading is sponsored by the English department. The event is free and open to the public. A book signing will follow the reading.