November 2, 2017
Kansas State University Polytechnic Campus welcomes new executive director of enrollment management and marketing
Submitted by Communications and Marketing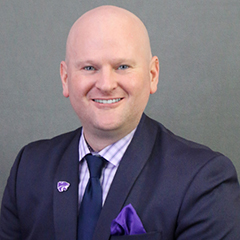 Kansas State University Polytechnic Campus has hired a new leader to transform prospective students into Wildcats.

Christopher Smith, former director of admissions for two DeVry University locations, joins Kansas State Polytechnic as the new executive director of enrollment management and marketing. Smith, from McPherson, started his role at the beginning of October and is tasked with supervising the operations of both the admissions and communications and marketing offices. His primary focus is on increasing brand awareness and creating new recruiting strategies, with an overall objective of growing enrollment.

"We are proud to welcome Dr. Smith and his years of experience in student recruitment to the Polytechnic Campus," said Verna Fitzsimmons, dean and CEO of Kansas State Polytechnic. "His extensive knowledge of the consultative approach to enrollment, which centralizes the student experience, aligns perfectly with our campus's polytechnic approach to education. It will be exciting to watch Dr. Smith's fresh perspective and new ideas elevate our engagement with potential Wildcats."

A native of Savannah, Georgia, Smith was working in the hospitality industry as the owner and operator of an upscale wine bar and restaurant when he transitioned into higher education. After selling his establishment, he started recruiting culinary students to The Art Institute of Charlotte as an assistant director of admissions.

Before joining Kansas State Polytechnic, Smith spent eight years as director of admissions for DeVry University and its Keller Graduate School of Management at both the Charlotte and Raleigh, North Carolina, locations. He was responsible for leading a team of undergraduate and graduate admissions advisors, meeting enrollment goals every term, managing profitability and developing talent. Smith was recognized for his success and leadership within the institution with the Legacy of Service honor and DeVry's top accolade, the Pride Award.

"When I started working in admissions, I realized early on the kind of impact it has on someone's future," Smith said. "In admissions, you are on the front lines directly helping prospective students with their educational and professional goals, and I'm excited to continue serving students through this next step in my career at Kansas State Polytechnic.

"I am impressed by the campus's 'learning-by-doing' mentality and concentration on professional degree programs because I believe relevant, real-world experiences resonate with the next generation," he said. "With this innovative educational style and an enhanced recruiting approach, I am confident Kansas State Polytechnic will stand out among other institutions of higher learning."

Smith sees several areas of opportunity to grow enrollment at Kansas State Polytechnic, including connecting with a more diverse population of students and utilizing a consultative method from inquiry to admittance. Smith wants the focus to always be on the student because he says every student's situation is different and by understanding their true needs and motivations, Kansas State Polytechnic can build trust and provide real value.

Smith has a Doctor of Philosophy in education with a concentration in higher education leadership from Capella University. He earned a master's degree in organizational management from the University of Phoenix and a bachelor's degree in political science with a criminal justice minor from Valdosta State University.