October 27, 2017
Center of Excellence for Vector-Borne Diseases hosts inaugural campus conference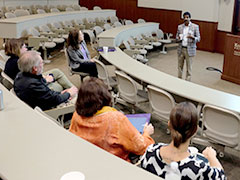 A new effort to convene Kansas State University researchers whose study is focused on vector-borne diseases was launched Oct. 23 at the Leadership Studies Building.
"The goal of this inaugural all-day conference is to generate synergy to further research in this area and explore potential collaborative funding opportunities, such as preparing program projects," said Roman Ganta, director of the Center of Excellence for Vector Borne Diseases, which is headquartered in the College of Veterinary Medicine.
The program included nine formal presentations by faculty members from the entomology, biochemistry, biology and diagnostic medicine/pathobiology departments. Topics included spatial epidemiology of tick-borne diseases, immunobiology of mosquitoes and biting midges, genetic analysis on Ehrlichia chaffeensis and a variety of other related topics. Several scientists from the Arthropod-borne Animal Diseases Research Unit, USDA, Manhattan, also attended the event.
Ganta said the center plans to have this meeting annually during the fall of each year.
"This was a very encouraging start," Ganta said. "At the conclusion of the presentations, we had a spirited group discussion where these participants expressed a mutual desire to include more of our colleagues on campus and to find ways to build stronger networks of collaboration and communication."
Ganta said the center has planned a national meeting on tick-borne diseases at Manhattan's Hilton Garden Inn on May 5, 2018. Currently confirmed speakers include experts from the Uniformed Services University of the Health Sciences, Centers for Disease Control and Prevention, North Carolina State University in addition to Kansas State University.
The Center of Excellence for Vector-Borne Diseases is an interdisciplinary research center at the College of Veterinary Medicine, Kansas State University. The primary focus of the center is to conduct research on vector-borne diseases of importance to animal and human health. Its goals also include disseminating the current knowledge through continuing education conferences.