May 14, 2012
Wildflower Walk at Konza Prairie June 3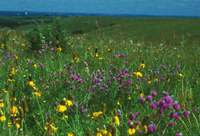 The Friends of Konza Prairie invites you to see and identify the wildflowers of the tallgrass prairie.
On Sunday, June 3 at 6:30 p.m., the general public has an opportunity to visit areas normally not open to the public and walk a trail rich with wildflowers. Trained docents will be available to enable easy identification of the wildflowers. This event is a fundraiser for the Konza Environmental Education Program, so we ask for donations of $10 per person and $2 per child.
Come join for us for a stroll through the prairie and our native wildflowers. To accomodate all visitors with docents we do ask for reservations. Please call 785-587-0441 before May 31.