September 25, 2017
Walk-in flu vaccine clinic at Lafene Health Center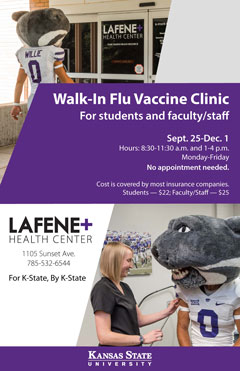 Lafene Health Center is offering a convenient option for K-State students, faculty and staff to receive their flu shot.
Beginning Sept. 25, a walk-in clinic offering the quadrivalent influenza vaccine will be available from 8:30-11:30 a.m. and 1-4 p.m. The clinic will be available through Dec. 1. You don't need to make an appointment, but bring your K-State ID and insurance card. Please plan to stay in the building for 15 minutes after receiving the vaccine.
The vaccine is fully covered by most insurance companies; however, noninsurance holders may receive their vaccine for $22 for students, or $25 for faculty and staff.
For more information, contact the health promotion department at Lafene Health Center at 785-532-6595 or healthy@k-state.edu.