September 25, 2017
Weigel Library closed during relocation from Seaton to Regnier Hall
Submitted by Sarah McGreer Hoyt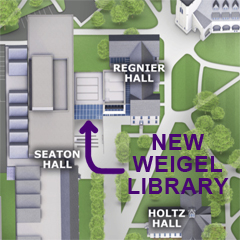 After a summer of anticipation, the Paul Weigel Library of Architecture, Planning & Design is relocating from Seaton Hall third floor to its beautiful new space in Regnier Hall.
Weigel will close its doors in Seaton Hall for the last time at 10 p.m. Thursday, Sept. 28, and will reopen at 8 a.m. Wednesday, Oct. 4, in 81 Regnier.
If faculty need to make any advance arrangements for access to materials during the closure, please contact Maxine Ganske prior to Wednesday, Sept. 27.
Individuals who need assistance during the closure should contact Hale Library's Help Desk in person or via phone, text, chat or email.