August 29, 2017
Natural Resources and Environmental Science Seminar Series speakers announced for fall 2017 semester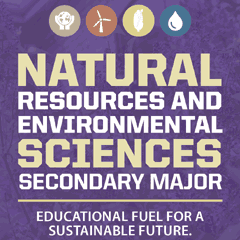 The natural resources and environmental science secondary major announces the schedule for the fall 2017 NRES Seminar Series. K-State faculty researchers from a variety of departments will discuss topics ranging from the rise of the American beef industry along the Chisholm Trail, to science and public relations, to use of unmanned aerial vehicles in the environmental sciences.
All presentations will start at 11:30 a.m. in 231 Ackert Hall, unless otherwise noted.
Sept. 7: Jim Sherow, history
Sept. 14: Colby Moorberg, agronomy
Sept. 19: Barbara DeSanto, A.Q. Miller School of Journalism and Mass Communications
Sept. 21: Trevor Witt, unmanned aircraft systems, K-State Polytechnic
Oct. 17: Brian McCornack, entomology
Those interested in attending should refer to K-State Today or the natural resources and environmental sciences website for presentation titles and any last minute venue changes.
Undergraduate students interested in natural resources, environmental science and sustainability issues are especially encouraged to attend. The natural resources and environmental science secondary major and its seminar series is generously supported by the Office of the Provost, College of Agriculture, College of Arts and Sciences, and biological and agricultural engineering department.