August 30, 2017
'Protecting Sexual Health in Kansas' forum today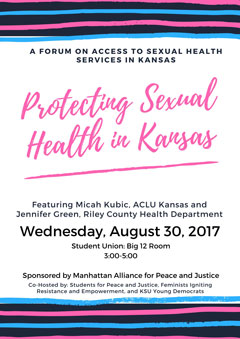 Join K-State student and local organizations for "Protecting Sexual Health in Kansas," an open sexual health forum, from 3-5 p.m. Wednesday, Aug. 30, in the Big 12 Room of the K-State Student Union.
The forum is open to K-State students, faculty, staff and community members to learn and ask questions about the state of sexual health bills and laws in both Kansas and Riley County.
Jennifer Green, director of the Riley County Health Department, and Micah Kubic, executive director of the American Civil Liberties Union of Kansas, will speak on topics of sexual health in and out of the Manhattan community. Topics will include sexual health resources and issues in Manhattan, the state of sex education/consent education in Kansas, and current activism on sexual health issues regarding the LGBTQ community.
The forum is co-hosted by the K-State Alliance for Peace and Justice, Feminists Igniting Resistance and Empowerment, and K-State Young Democrats, all official university registered student organizations.
The groups' aim is to spread awareness of sexual health legal challenges facing both Riley County and Kansas, provide community members with information on how they can access sexual and reproductive health care in Riley County, and inform students on how to get involved.