August 17, 2017
Welcome back Wildcats: 2017 Week of Welcome offers events for new, returning students
Submitted by Communications and Marketing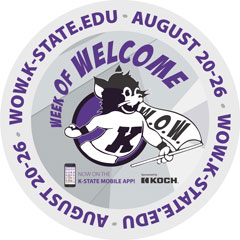 A variety of events are scheduled to help welcome new and returning students to the K-State campus during K-State's Week of Welcome.
The official Week of Welcome kickoff is the New Student Convocation at 5:45 p.m. Sunday, Aug. 20, at Bramlage Coliseum. Convocation, a tradition that dates back to the 1950s, is an opportunity to formally welcome first-year students to the university.
This year's convocation speakers include Richard Myers, president; April Mason, provost and senior vice president; Greg Eiselein, professor, university distinguished teaching scholar and director of K-State First; Olivia Haney, Mortar Board Senior Honorary, Michael Brown, IMOTHEP — Black Male Initiative, and Monica Diaz, Developing Scholars Program; Dalton Henry, '10, and Jorge-Edurado Mendoza, '10, K-State Alumni Association 2017 Distinguished Young Alumni award recipients; and Brandon Kliewer, assistant professor, Staley School of Leadership Studies.
A pep rally and free dinner will follow the convocation at 7 p.m. at Bill Snyder Family Stadium.
Housing and Dining Services will host the official move-in day at the residence halls Saturday, Aug. 19. To avoid potential traffic congestion, please use alternate routes to your destinations away from the residence halls and Jardine Apartments.
The annual pancake feed will start at 10 p.m. Saturday, Aug. 19, at Memorial Stadium.
See a full a list of the week's activities, including student group information sessions, welcome events with free giveaways and more.