August 17, 2017
A letter from interim Associate Provost for Diversity Zelia Wiley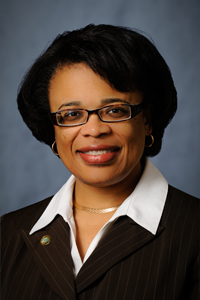 Dear K-Staters,
The fall semester is here. As the summer comes to an end, so do summer programs in the Office of Diversity. The housing and dining super team with their neon yellow vests and equally bright smiles opened the doors Sunday, Aug. 13, for early move in and are ready to greet more on Saturday, Aug. 19. This is always a good sign that our students are returning ready for class, sports and activities. As for the Office of Diversity, our doors never close. The Office of Diversity served as host for several summer programs. The following are a few of our programs' successes.
On June 17, we collaborated with the Manhattan Juneteenth Committee and the Douglass Center for the 28th annual Juneteenth celebration. Thank you to the center's staff and all professional and individuals sponsors responsible for making the 28th year a success.
The 2017 closing ceremony for the Class XI MAPS scholars was on July 20 and it was a pleasure to have Dr. Pat Bosco greet them only as he can! Mentors and directors presented scholars with a certificate of completion and a slideshow of memories to commemorate their participation in the program. Corporate sponsors, mentors, instructors, tutors and faculty members helped the summer participants make a smooth transition.
The students participating in the KSRE Undergraduate Summer Research Fellowship presented their research results on July 27. It was a pleasure hosting the 2017 cohort this summer and we wish them well in their future endeavors.
The 2017 Kompass orientation was Aug. 6-9. The program started with a family welcome and dining etiquette dinner led by Dr. Kevin Roberts from the College of Human Ecology. Students in the colleges of Agriculture, Business Administration and Engineering participated in an extended orientation to familiarize themselves with the campus community and give them a head start in their career field. They also participated in the Guaranteed 4.0 Training course, professional and personal development workshops and a challenge course. Senior Vice President and Provost April Mason gave remarks at the 2017 Kompass closing luncheon for the students and parents.
To continue our effective collaboration with the Office of Admissions, Project IMPACT's College for a Day, or CFAD, Institutes hosted more than 30 students from Wyandotte County in July. Thanks to the faculty and staff in the colleges of Business Administration and Engineering for presenting this institute and supporting our recruitment efforts into the summer.
We look forward to assisting all of our Project Impact scholars during your educational journey. Please attend the Office of Diversity Fall convocation at 6:30 p.m. Wednesday, Aug. 23, in the 1109 Engineering Hall. You will learn more about your scholarship requirements and the other fall programs the Office of Diversity supports. Refreshments will be served. Please continue to use our office as a resource and thank you to all the scholars who have participated in our programs this summer.
Again, we thank all of you for being a welcoming part of K-State! Overall, we had a great summer. Bravo to all who have had an input to our efforts to make a difference in the area of diversity. Special thanks to the Office of Diversity staff, K-State colleges, housing and dining, facilities, and the K-State Student Union and their staff for making our summer productive.
In closing, we are aware of last weekend's unfortunate events on the east coast, specifically so close to the University of Virginia. I ask that you reflect on our Principles of Community. Explicitly principle two, which states "We stand united against all forms of discrimination." Will this give us all the tools to counter issues as such? No, but it is a start at putting the K-State principles into practice. As a university that celebrates all cultures, we must, at all times, respect and appreciate our differences and work together to show that the university community denounces hatred and violence.
It has been an honor to serve as a change agent in this most important position. We must not rest on our laurels for there is much work to be done in the area of inclusion and diversity. Let's keep moving forward! Please continue to look for more diversity events. For more information about upcoming events or to collaborate with the Office of Diversity, contact me at 785-532-6276 or by email at zwiley@k-state.edu.
Let's make it a great start of the fall semester. Go Cats!!
Dr. Zelia Wiley
Interim associate provost for diversity