August 9, 2017
K-State MBA student part of winning team in X-Culture Competition
Submitted by Brent Fritzemeier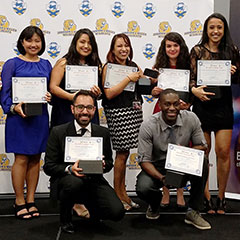 Chris Nettey, a Kansas State University master's student in business administration, was part of a team of students from around the globe that won the 2017 X-Culture Symposia Human Resources Case Competition, an international business strategy competition.
Nettey first got involved in the X-Culture Competition as part of the curriculum of the Management 690 course in the College of Business Administration. His work in the classroom saw him receive an invitation to the 2017 X-Culture Symposium to take part in a case competition with fellow high-scoring students from around the globe. Of the more than 4,000 students who participated in the initial round of competition, only 150 — which included fellow K-State MBA student Autumn Horton and Ewerton Garcia Ferraz, a K-State undergraduate study abroad student from Brazil — were invited to take part in the symposium.
Before attending the conference, participants were assigned to a team of students who were tasked with developing solutions to real-world business challenges. After working collaboratively throughout the month leading up to the conference, the teams then met in Miami to present their findings to a panel of judges, who chose Nettey's team as the contest winner.
"The case competition illustrated to each student the value and uniqueness of International Business," Nettey said. "Not only were we exposed to a vast array of industry opportunities, we also felt the importance of cross-cultural awareness. I worked side-by-side with some of the brightest minds from around the world in a productive and respectful atmosphere."