July 25, 2017
Rasheed wins Best Paper Award at international conference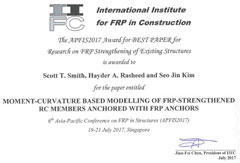 Hayder Rasheed, professor of civil engineering at Kansas State University, won the Best Paper Award for Research on FRP Strengthening of Existing Structures at the sixth Asia-Pacific Conference on FRP in Structures July 19-21 in Singapore.
Rasheed's paper, "Moment-Curvature Based Modelling of FRP-Strengthened RC Members Anchored with FRP Anchors," was among 156 papers entered into the competition.
The conference was sponsored by the International Institute for FRP in Construction.