July 25, 2017
Personnel promotions and new hires at KSU Foundation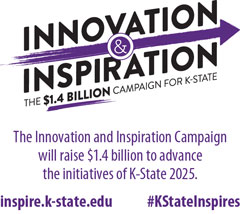 The Kansas State University Foundation recently hired five new team members and promoted three.
Ellen Knackendoffel, K-State alumna and native Manhattanite, followed her love of K-State, people and philanthropy to the KSU Foundation. She currently serves on the board of the No Stone Unturned Foundation and will serve as a gift officer on behalf of universitywide programs.
Austin Peterson, K-State alumnus, joins the foundation as a gift officer serving universitywide programs following his retirement from the U.S. Army, where he served as assistant operations officer and public affairs representative for his unit at Fort Riley. Originally from Liberty, Missouri, Peterson said that K-State is a key pillar of his family life, as both of his parents are alumni and his younger brother will continue his studies at K-State in fall 2017.
Jenny Walter has been hired as constituent relations manager after working with U.S. Speedskating and an event production company in Colorado. A Hays native, Walter appreciates the culture and purple pride found in Manhattan.
Manhattan native Sandy Kemp is now a development coordinator for the College of Human Ecology and on behalf of campaigns and principal gift operations. Kemp previously worked in the K-State agronomy department, where she assisted with event and travel planning.
Alexis Hubeny, originally from Kansas City, Missouri, is the foundation's new gift planning coordinator. Having recently moved to Manhattan from St. Louis, Missouri, she joins the team with a variety of experience in the fitness industry.
Four staff members have been promoted since spring 2017. Kate Ryan has been promoted to commercial leasing and engagement manager. Jenna Brown is now assistant director of development with the College of Engineering. Janet Downie has been promoted to collegiate development manager. Sherilyn McRell is now the asset operations specialist for the KSU Foundation.
Philanthropic contributions to K-State are coordinated by the Kansas State University Foundation. The foundation is leading Innovation and Inspiration: The Campaign for Kansas State University to raise $1.4 billion for student success, faculty development, facility enhancement and programmatic success.