May 12, 2017
Sondheim's 'Assassins' to feature K-State professor in Kansas City professional premiere
Submitted by Jerry Jay Cranford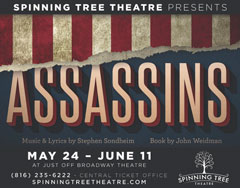 Jerry Jay Cranford, K-State professor of theatre and Equity actor, will be featured in the Kansas City professional premiere of Stephen Sondheim's "Assassins" as John Wilkes Booth, who assassinated President Abraham Lincoln.
"Assassins" is structured around the meeting of all of those who sought or succeeded in assassinating a president.
Cranford said the research into the life and mind of Booth to develop the empathy to portray him has been fascinating.
The controversial musical had a successful off-Broadway run in 1990 and a Broadway revival that won five Tony Awards. The role of Booth was originally played by actor Victor Garber and the revival cast featured Neil Patrick Harris.
Before coming to K-State, Cranford performed in the Broadway and national touring production of "Les Misérables."