May 5, 2017
'Marlin Fitzwater: From Wheat Fields to White House' exhibit heads to the Eisenhower Presidential Library
Submitted by Sarah McGreer Hoyt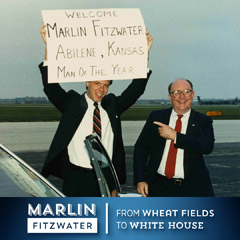 A new temporary exhibit, "Marlin Fitzwater: From Wheat Fields to White House," opens at the Eisenhower Presidential Library in Abilene on Friday, May 12. The opening reception will be from 5:30-8:30 p.m. in the Library Courtyard and includes a meet and greet with Marlin Fitzwater. If you'd like to attend the opening, RSVP to Darchelle Martin at 785-532-7442 or martin05@k-state.edu.
The exhibit was created in collaboration with K-State Libraries, and it will remain on display until Aug. 20. Fitzwater, who received an honorary doctorate from Kansas State University in 2015, recently donated his personal papers to the Richard L. D. and Marjorie J. Morse Department of Special Collections at K-State Libraries. The items in the exhibit represent a small sample of the donation.
Fitzwater grew up in Abilene and graduated from K-State in 1965. He rose through the ranks of civil service in Washington, D.C., serving as spokesperson and speechwriter for several agencies including the Environmental Protection Agency, Department of Transportation and Department of Treasury.
In 1983, Fitzwater joined the White House staff, where he remained for 10 years, including six years as press secretary. He is the only press secretary in history to be appointed by two presidents. He is a best-selling author and consulted for the award-winning television show "The West Wing."
The Eisenhower Presidential Library, Museum and Boyhood Home, a nonpartisan federal institution, is part of the Presidential Libraries network operated by the National Archives and Records Administration. Presidential Libraries promote understanding of the presidency and the American experience. They preserve and provide access to historical materials, support research, and create interactive programs and exhibits that educate and inspire. Public programs and exhibits at the Eisenhower Presidential Library are made possible through the generous support of the Eisenhower Foundation.