May 5, 2017
Cats for Kids Launch Party
Submitted by Nicole Fiorentino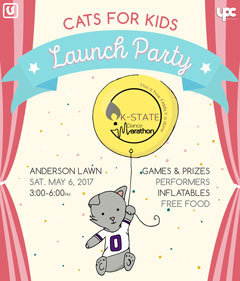 Cats for Kids, a student organization that raises money and awareness for local hospitalized children of Children's Miracle Network Hospitals, will host a free Launch Party from 3-6 p.m. Saturday, May 6, on Anderson Lawn.
This event is to kick off the yearlong fundraising efforts of the Cats for Kids organization that will culminate in a Catathon celebration in spring 2018.
The event, co-sponsored by Cats for Kids and Union Program Council, will include an inflatable obstacle course, dunk tank, free food, prizes, music and more. Students, families and all Manhattanites are welcome.
Please join Cats for Kids in its efforts to benefit local children. Follow Cats for Kids on social media at @CatsforKidsDM.