April 25, 2012
Aviation professor recognized by alma mater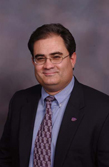 R. Kurt Barnhart, head of K-State Salina's department of aviation, was recognized with an Outstanding Technology Alumni Award from Purdue University's College of Technology.
The honor is bestowed on alumni who have had a positive impact on their chosen professions, are relevant in their industries, and have achieved significant results.
Barnhart earned a bachelor's degree in aviation administration from Purdue in 1991.