April 25, 2012
John Wolf wins 2012 Classified Award Of Excellence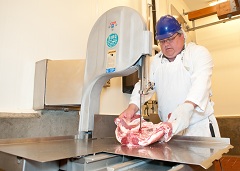 Three classified staff members are receiving the 2012 Classified Award of Excellence for their outstanding achievement and performance, their ability to inspire excellence in others and their initiative and creativity at the annual Classified Employee Recognition Ceremony at 2 p.m. today in the K-State Student Union's Main Ballroom.
The winners are Kim Schurle, Paul Wagoner and John Wolf. Today's article focuses on John Wolf, manager of KSU Meat Lab and a research technologist in animal sciences and industry, the winner in the Technical and Professional category. He was nominated by Randall Phebus, professor of food safety and defense.
Wolf provides the highest level of technical support to hundreds of meat science and food safety research projects. His extensive knowledge of meat processing and equipment operation, along with his connections across the state with commercial meat companies and technology providers, is one of the most important elements leading to K-State's national recognition as a top-tier meat science/food safety research and education institution.
Wolf stepped up to lead K-State efforts to bring the meat processing suite online at the Biosecurity Research Institute. This world-class biocontainment facility is equipped to allow commercial scale research projects. From the day that engineers and architects began planning construction of this unique facility, Wolf was the primary information source as to layout, equipment specifications, work flow and biosafety needs of the meat processing suite.
Last year a first of its kind commercial scale beef trim grinding study under BSL-3 conditions was conducted at the BRI. This study would not have been possible without the guidance, support and hard work that Wolf contributed to the research team. He works with these research efforts while continuing to be responsible for the Meat Laboratory operations in Weber Hall. He has been instrumental in seeking new sources of revenue, including the initiation of smoked turkey, ham and gift boxes for the holidays. In addition, he manages all daily operations required for teaching and research.