October 25, 2011
Eric Sanderson to discuss the Mannahatta Project in Forum Hall Wednesday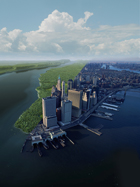 Eric Sanderson, senior conservation ecologist at the Wildlife Conservation Society, will give a lecture at 4 p.m., Wednesday, in Forum Hall at the K-State Student Union.
Sanderson is the director of the Mannahatta Project, an effort to reconstruct the original ecology of Manhattan Island at the time of European discovery in the early 17th century.
The lecture is free, and everyone is encouraged to attend!
For more information on the Mannahatta Project, go to http://welikia.org/.