March 29, 2017
Faculty and students represent K-State at Central States Communication Association conference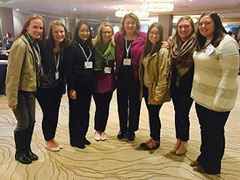 Communication studies faculty and students represented K-State at the annual Central States Communication Association conference March 16-19 in Minneapolis, Minnesota.
Sarah Riforgiate, Natalie Pennington and Soo-Hye Han, all professors in the department, presented papers at the conference.
Graduate students Lindsey Milburn, Emily Ruder, Kory Loden and Grace Karber also presented their work.
Riforgiate and Ruder's paper "Embracing and Contesting Gender Roles: Women Leaders Creating Opportunities through Communication in STEM" was selected as a top paper in Organizational and Professional Communication.
Undergraduate students Paige Wiley, Brett Sitts and Katie VanDever also presented papers as part of the President's Undergraduate Honors Research Conference.
Han and Colene Lind were elected chair and secretary, respectively, of the political communication division within the association. Riforgiate was elected vice chair for organizational and professional communication.