March 29, 2017
Writer Joy Castro to read from her work at 3:30 p.m. Friday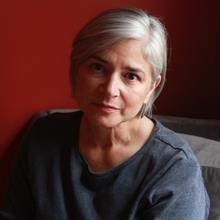 On Friday, March 31, writer Joy Castro will read from her work at 3:30 p.m. in Hale Library's Hemisphere Room.
Castro is a memoirist best known for her book "The Truth Book: Escaping a Childhood of Abuse Among Jehovah's Witnesses," published in 2005. She also writes poetry and short fiction. She has published two novels, "Hell or High Water" and "Nearer Home"; a book of short stories, "How Winter Began"; and a collection of essays, "Island of Bones."
Castro was born in Miami, raised in England and West Virginia, and educated in Texas. She currently lives in Lincoln, Nebraska, and teaches at the University of Nebraska.
"Joy Castro is a storyteller — a truth teller — who moves effortlessly between lyric evocation and narrative that bears witness. Once you pick up a book you can't put it down," said Elizabeth Dodd, university distinguished professor of English and creative writing.
Katy Karlin, associate professor of English and creative writing and director of the program in creative writing, also values the versatility and power found in Castro's writing.
"Joy Castro writes memoir, fiction and poetry, all of it compact and tough-minded. Writing is, for Castro, a process of mining the truth, and her readers benefit from her fearlessness," Karlin said.
More information about Castro's work is available from her website.
Castro's reading is sponsored by the English department and K-State Libraries. The event is free and open to the public. A book signing will follow the reading.