March 9, 2017
Panel to discuss 'Queer/Trans People of Color Resistance Through Art and Activism'
Submitted by Shireen Roshanravan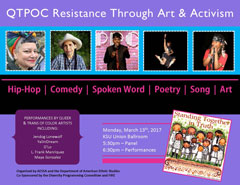 The American Ethnic Studies Student Association, an official student organization, will host a panel discussion, "Queer/Trans People of Color Resistance Through Art and Activism," at 5:30 p.m. Monday, March 13, in the K-State Student Union Grand Ballroom. Panel members include artists and activists Maya González, D'Lo, L. Frank, Jendog Lonewolf and YaliniDream.
At 6:30 p.m., each artist will perform spoken word, comedy, hip-hop and storytelling focused on the creative resistance and resilience of queer/trans people of color across Asian American, Black, Latina/o, and Native American communities.
The event offers the campus community an opportunity to engage in dialogue and learn from artists and activists who live, struggle and create at the intersection of gender, sexual, racial, colonial and cultural oppressions. The panel members' art communicates how violence-free communities depend on coalition across multiple lines of difference and demonstrates the impossibility of achieving racial and decolonial justice without simultaneously fighting for gender and sexual justice.
The American Ethnic Studies Student Association, in partnership with the American ethnic studies department and Feminists Igniting Resistance and Empowerment, organized this event with funding from the Diversity Programming Council, DOW Center for Multicultural and Community Studies and the English department.
See the event's PDF flier for more information. All are welcome to attend this free event.