March 9, 2017
K-Staters present at NACADA Region 7 Conference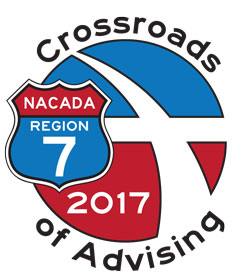 Billed as the "Crossroads of Advising," NACADA's Region 7 Conference Feb. 26-28 in Tulsa, Oklahoma, welcomed more than 500 academic advisors from six states, including five K-State presenters and many more, including one SGA representative, who participated in the conference proceedings.
Zac Malcolm, Sarah Buchanan and Beth Stuewe presented "Advising Syllabus: We've created one and so can you!"
Robert Pettay presented "Empathy and Advising: Integrating Concepts to Enhance the Advising Experience."
Nick Marshall presented "Xie, Ve, and It: Finding the Language to Advise Trans* Students."
In total, however, K-State had 17 attend, not counting NACADA staff! Huge K-State participation is only fitting. After all, last year's Region 7 Conference was hosted in Manhattan, and K-State is NACADA's "mothership"!
Thanks to Stuewe of the School of Family Studies and Human Services for collecting and sharing this news with the K-State advising community, and thanks to NACADA for supporting participation by SGA's Miranda Moore.