March 9, 2017
K-State Public Relations Student Society of America attends conference, recognized as 'Most Charitable'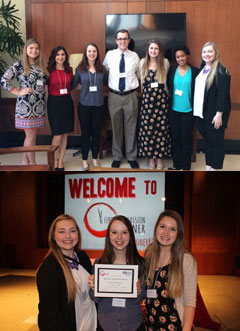 K-State's Public Relations Student Society of America, or PRSSA, recently attended the Find Your Passion Sooner regional conference in Norman, Oklahoma. The conference was hosted by the University of Oklahoma's PRSSA chapter.
Seven K-State students attended the conference on Feb. 24 to hear keynote speaker Bryan Ferrel, the founder of Factor 110, an Oklahoma City-based destination management company. He spoke to students about taking risks and managing his own business.
The following day consisted of networking sessions and guest speakers. Attendees heard from professionals in corporate, agency and travel public relations. Jake Basden, vice president of publicity and corporate communications for Big Machine Label Group, shared the story of his success. He encouraged students to "be a student for life" and to "be the most connected person you know." Basden is an alumnus of the University of Oklahoma.
Throughout the two-day conference, donations were collected from each visiting chapter for Hayden's Hope. The nonprofit works with the Children's Organ Transplant Association to help families cover transplant-related expenses. K-State was recognized among other schools as "Most Charitable" for the most significant contributions to the philanthropy.