March 2, 2017
K-State Book Network 2017 book selected, information session announced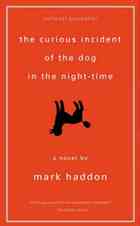 The K-State Book Network announces the book selection for 2017: "The Curious Incident of the Dog in the Nighttime" by Mark Haddon.
Haddon's novel tells the story of Christopher, a 15-year-old boy living outside of London who is mathematically brilliant with a photographic memory and a love for animals more than people. He also has a mystery to solve: the suspicious death of a neighborhood dog. Along the way, Christopher's investigation reveals important truths about his community, his family and himself.
"I'm excited that we are reading a fiction book this year," said Tara Coleman, chair of KSBN and associate professor, K-State Libraries. "At first glance you think 'Curious Incident' is a just detective story about a quirky kid. But once you get into it, you discover it's a lot more. The book is about family and how people respond to stress, self-care and love."
The 2017 selection emerged as the favorite following campuswide conversations and review by the KSBN selection committee, comprised of 42 faculty, students and staff from two campuses and 18 colleges and units.
"We're looking forward to another great semester of campus and communitywide programming, including a public lecture series by members of the K-State community," said Karin Westman, chair of the KSBN PR/Events Committee and department head of English. "Watch for an announcement in K-State Today later this spring with a call for participants."
Wondering how you can incorporate the 2017 common book selection into your work with the K-State community this fall?
On Thursday, April 6, KSBN will host an information session for faculty, staff, graduate teaching assistants and student leaders to discuss how Haddon's book can be part of coursework and event programming.
Coleman, Westman and other members of KSBN will share resources for Haddon's book on issues such as education, creativity, perception, logic, forensic science, geography, animal assisted therapy and family.
The information session will be from 11 a.m. to noon in 209 K-State Student Union. Participants are welcome to stop by at any time during the hour to visit with members of KSBN. Refreshments will be served.
RSVP by April 3 for an opportunity to receive a copy of "Curious Incident" at the session.
For more information about K-State Book Network, the 2017 book selection, and resources for its inclusion in fall activities and classrooms, visit the KSBN website.