March 2, 2017
College of Engineering awards six Keystone Research Scholars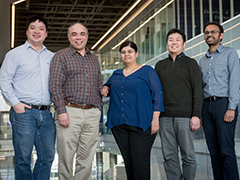 The impact of faculty research plays a major role in establishing the reputation of a college and university.
This belief propelled the College of Engineering at Kansas State University to establish the Keystone Research Scholars Program to recruit and retain top scholars, who though in the early stages of their academic careers, are in high demand for faculty positions throughout the country.
"By providing targeted funding for these early-career faculty members to pursue groundbreaking research," said Darren Dawson, dean of the College of Engineering, "we are enabling these talented men and women to join our college and take their intellectual pursuits to the highest levels of achievement here."
Based on previous records of outstanding research accomplishment, faculty members are nominated by their department head for these positions. Each Keystone Research Scholar receives a three-year appointment with a salary increase and discretionary funds to support travel, specialized equipment and additional graduate students to join his or her research team.
Funded by a gift from Michelle Munson, 1996 electrical engineering graduate, and her husband, Serban Simu, the following six recipients have been named as Michelle Munson-Serban Simu Keystone Research Faculty Scholars:
Pavithra Prabhakar, assistant professor, and Eugene Vasserman, associate professor, both computer science; and Jungkwun Kim, assistant professor, Behrooz Mirafzal, associate professor, Punit Prakash, assistant professor and Hongyu Wu, assistant professor, all electrical and computer engineering.
Dawson said four additional Keystone Research Scholars will be announced at a later date.