February 13, 2017
Chapman named interim associate provost for international programs
Submitted by Communications and Marketing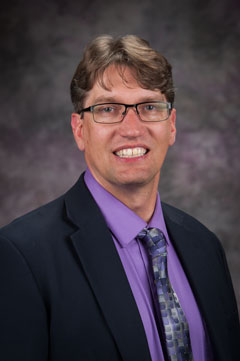 Kansas State University has named Grant Chapman as the interim associate provost for international programs, effective Feb. 12.
Chapman has served as assistant provost of international administration in the Office of International Programs at K-State since January 2015.
He will report to the provost and work closely with faculty, staff and students, department heads, deans, university administrators and the broader community on international projects.
"Grant brings a wealth of experience and enthusiasm for international work," said April Mason, provost and senior vice president. "I look forward to working with him and the whole Office of International Programs to move forward our K-State 2025 Internationalization Strategic Plan."
As interim associate provost, Chapman will promote quality undergraduate and graduate experiences for international students and an inclusive environment; work to expand international opportunities for faculty, students and academic programs; be actively involved in the recruitment and retention of high-caliber, international undergraduate and graduate students; implement K-State's international strategic vision and be a strong advocate for all international dimensions of the university and more.
Chapman replaces Marcelo Sabatés, who accepted the position to be vice provost for global education at Columbia College Chicago.
"I am extremely honored and excited for this opportunity to lead and assist Kansas State University's international initiatives and programs on an interim basis continuing the good work by Marcelo Sabatés and the Office of International Programs' administration, staff and instructors," Chapman said. "Also, at this moment, it is important to recognize and value the contributions and accomplishments of all international students, international scholars and visiting scholars at Kansas State University. Our international students and scholars add to the diversity and academic richness of the university and the community."
Chapman previously served as associate vice president for academic affairs and director of international programs at Webster University in St. Louis, Missouri from 2005-2015. In this role, Chapman was responsible for the operational and fiscal oversight of its international campuses — which include several hundred education abroad students in Europe, Asia and Africa. He was awarded the Presidential Recognition Award in 1996 from Webster University.
Chapman also served as provost and associate professor at Ottawa University's Kansas City campus from 2003-2005, and director and assistant professor of the Office of International Programs at its Ottawa campus from 1998-1999. In 2008, he was a Fulbright scholar through the International Education Administrator Program in Japan.
He received his juris doctorate and master's degree in public administration from Saint Louis University, and his bachelor's degree in political science and international public administration from Oklahoma State University.