December 20, 2016
K-State United Way prizewinners announced, campaign continuing
Submitted by K-State United Way Campaign Committee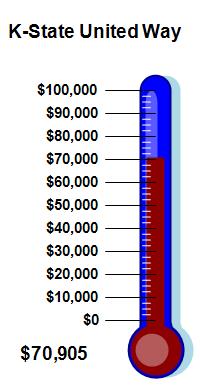 The K-State United Way campaign committee has selected the winners of the annual prizes.
Wendy Matthews, assistant director of special programs and sponsored students in the Office of International Programs, is the winner of the parking pass, and Kimberly Coy, administrative specialist in the physics department, is the winner of a day off with pay.
Thank you to everyone who has pledged to the campaign this year. As of Dec. 18, 346 K-State employees have pledged $70,905.50.
The campaign has not ended. As a campus, we need to raise $29,094.50 to reach our goal of $100,000. In the spirit of the holidays, please consider pledging a gift of any amount to the United Way campaign before you leave campus for the break. Visit K-State United Way for more information or give through HRIS/Employee Self Service.
Your donation, no matter how large or small, will go directly toward helping many area nonprofits continue their services to those who need it most.
United Way agencies by the numbers:
Crisis Center: Provides a safe shelter to an average of 33 victims per month.
Emergency Shelter: Housed 465+ individuals needing emergency housing in 2016.
Salvation Army: Received a $7,000 grant from the United Way for the January 2017 Emergency Assistance program.
85 percent of youth served by Big Brothers Big Sisters of Kansas are at or below poverty level, and 60 percent of children served come from homes where there is or was drug or alcohol abuse.
The Manhattan office of Catholic Charities of Northern Kansas assists six counties — Riley, Geary, Washington, Republic, Clay and Dickinson — and serves about 75 clients through emergency assistance programs each month. The office also is helping 31 families through its Adopt-A-Family program this year.
Thrive! Manhattan covers meal and programming expenses for an average of 40-50 people every week.
All of these agencies and many others benefit directly from donations to the United Way. Please donate today, and thank you for helping K-State continue to be a leader in our local communities.