December 20, 2016
K-State Polytechnic staff member and alumnus collaborate with Chapman Center for Rural Studies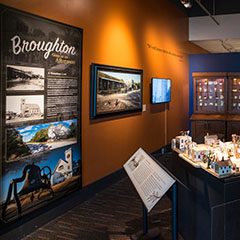 Video created by an alumnus and staff member of the Kansas State University Polytechnic Campus is featured in the Flint Hills Discovery Center exhibit "Going Home: Hidden Histories of the Flint Hills," on display through Jan. 8.
Produced by K-State's Chapman Center for Rural Studies, the exhibit tells the story of what "home" means to people living in the Flint Hills. Bonnie Lynn-Sherow, curator and executive director, enlisted the help of Khaled Abduljabbar, a Polytechnic Campus alumnus in digital media technology, with filming editing the video and promotional clips.
Some footage was captured using a UAS, or drone, by Travis Balthazor, Polytechnic Campus' UAS flight operations manager.
"It was great to help visually tell the history of small Kansas towns," Balthazor said.
"Going Home" is on display until Jan. 8 at the Flint Hills Discovery Center, 315 S. Third St., Manhattan. The exhibit is free and open to the public.
View videos featuring the exhibit on the Chapman Center for Rural Studies' YouTube channel.