December 9, 2016
Doctoral students have new opportunity to present research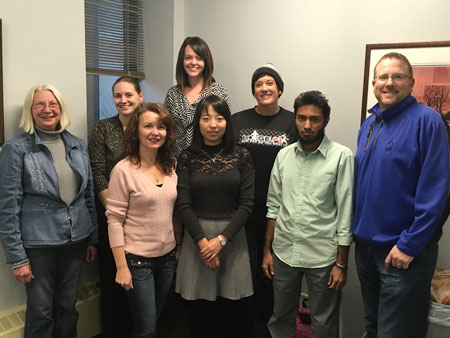 A new graduate-level class in the College of Education has inspired a new event.
Kay Ann Taylor, associate professor of curriculum and instruction, developed the course, Historical Research Methods in Education, and it concluded with eight doctoral students presenting their research findings in a mini-conference setting Dec. 8.
"The goal is for their research to be submitted to a peer-reviewed journal for publication or to present at a conference," Taylor said. "Their research topics are related or contributed to their dissertations, and I believe this was an excellent way for them to conduct research and engage in academic rigor."
Taylor said creating the course was a collaborative effort, as she worked with colleagues in her department and with many across campus to develop the syllabus. Many were ultimately invited as guest speakers.
K-State faculty members Heather McCrea, associate professor of history, provided expertise for defining primary documents and using them in research; Jim Sherow, professor of history, provided enormous insights about publishing; M.J. Morgan, assistant professor of history and research and curriculum director for the Chapman Center for Rural Studies, lectured on oral histories; Laura Bonella, associate professor at Hale Library, shared information about electronic library sources; and LouAnn Getz, curriculum and instruction program assistant, presented about Kansas teachers.
Taylor said everything about this course was exceptional, especially having all doctoral students.
"The depth of conversations and community of learners we had in the class was honestly something I will carry with me for the rest of my life," Taylor said. "Not only were the students amazing, I give much credit to my K-State colleagues for the invaluable contributions they made to the course and its content."
The following scholars made presentations at the mini-conference:
• Xinran Wang presented "Historical Background Interpretation: How the Cultural Revolution (1966-1976) Influenced Chinese Higher Education and Chinese People."
• Irina Tarabrina presented "Lemons to Lemonade: Avoidance Phenomenon Defined in English Language Learners 1970s-1980s."
• Sam Roberts presented "High School Dropout Rate Up; Poverty and Failure Blamed — The Federal Role in Shifting Graduation Rates."
• Melia Fritch presented "Beyond the Worksheet: Searching for Engaged Pedagogy in Library Instruction."
• Mark Ellner presented "Women's Role and Expectations in PE and Sport."
• Abdullah Masmali presented "The Development and Change in Education and Technology in Saudi Arabia."
• Nadyah Abdullah presented "Education in Saudi Arabia, 1930-1980."
• Jennifer Brown presented "Influence on Writing Instruction at the Turn of the Century: 1870-1892."