September 30, 2016
Joshua Davis, author of 'Spare Parts,' to speak Thursday, Oct. 6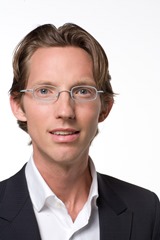 Author Joshua Davis will visit Kansas State next week to discuss his book "Spare Parts: Four Undocumented Teenagers, One Ugly Robot, and the Battle for the American Dream," the K-State Book Network's 2016 common reading selection.
Davis will deliver a public lecture at 7 p.m. Thursday, Oct. 6, in McCain Auditorium.
The event is free, but tickets are required. K-State students, faculty and staff can get a ticket with a valid university ID at the McCain Auditorium box office, while members of the public can get tickets at the Manhattan Public Library, 629 Poyntz Ave. Overflow seating will be available in the Little Theatre and K and S Ballroom in the K-State Student Union.
"Joshua Davis' 'Spare Parts' provides us with a 21-century version of the American Dream and reminds us why such ideals are still worth striving for," explained Greg Eiselein, professor of English and director of K-State First.
"As a teacher, I loved this book. It's a remarkable story about how students — given the opportunity, some encouragement and a little guidance, and the chance to work with others whose strengths might be different than their own — are capable of the seemingly impossible," Eiselein said.
"Spare Parts" tells the story of four Latino teenagers who won the 2004 Marine Advanced Technology Education Robotics Competition at the University of California, Santa Barbara. Two high school science teachers encouraged Oscar, Cristian, Luis and Lorenzo to succeed beyond expectations, helping them surmount the challenges faced by undocumented students in Phoenix, Arizona.
Tara Coleman, associate professor of K-State Libraries and chair of the K-State Book Network, appreciates how Davis' book prompts readers to reflect on intersections of education, identity and collaboration.
"'Spare Parts' allows us to cheer on the nerdy underdogs and celebrate the academic accomplishments earned through teamwork. This book inspires conversation on some challenging subjects," Coleman said. "I'm excited to hear what questions and thoughts our students have to share at the author's talk."
Davis is the co-founder of Epic Magazine and has been a contributing editor at Wired magazine for a decade. He has written for The New Yorker, GQ, Outside, Men's Journal, Men's Health, Maxim, and Food & Wine. He was a finalist for the 2014 National Magazine Award in feature writing and his work is anthologized in the 2012 edition of "The Best American Science and Nature Writing," as well as the 2006, 2007 and 2009 editions of "The Best Technology Writing."
The K-State Book Network is counting down to Davis' Oct. 6 visit and offering daily recaps of "Spare Parts" on Twitter and Facebook. More information about Davis and his work is available on his website.
Davis' visit to K-State is funded in part by the Diversity Programming Committee of SGA, with assistance from additional university sponsors.
"Spare Parts" is the university's seventh annual selection for the K-State Book Network, which started in 2010. More information about KSBN is available at the program's website.