September 29, 2016
Elizabeth Buck to present flute recital and masterclass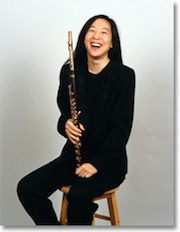 Elizabeth Buck, professor of flute at Arizona State University, will present a recital with Hannah Creviston, piano, at 7:30 p.m. Thursday, Sept. 29, in All Faiths Chapel.
The program, "Fabulous Flute Sonatas," will explore both standard and recently published works for flute and piano.
Buck also will teach a flute masterclass with three K-State student performers at 11:30 a.m. Sept. 29 in 127 Nichols Hall. The recital and masterclass are free and open to the public.
These events are sponsored by the School of Music, Theatre, and Dance.
Read Buck's biography online.