September 28, 2016
K-State's Mortar Board chapter receives national award
Submitted by Division of Communications and Marketing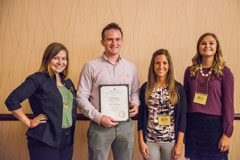 The Kansas State University chapter of Mortar Board National Senior Honor Society received a Gold Torch award at the 2016 Mortar Board National Conference in Indianapolis, Indiana, this summer.
The annual award recognizes chapters that excel in all areas of chapter operations including scholarship, leadership and meaningful service to their institutions.
Maxwell Braasch, chapter president; Kaylee Engle, vice president of scholarship; and Ellissa Heim, director of the Centennial Campaign, accepted the award for K-State's chapter. Tracey Lee, university alumna and chapter advisor, also attended the conference.
Since Mortar Board's founding in 1918, more than a quarter of a million members have been initiated at 231 chartered chapters across the country. Mortar Board provides opportunities for continued leadership development, promotes service to institutions of higher learning and encourages lifelong contributions to the global community.